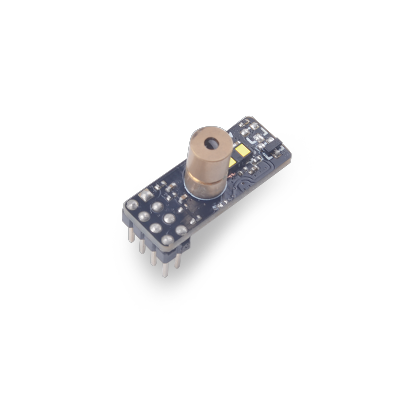 The VL53L0X used by SP_TOF is a new generation of time-of-flight (ToF) laser ranging module, which can provide accurate distance measurement regardless of the reflectivity of the target, with a red laser sight to assist in observing the ranging point.
Parameters
Measuring distance: up to 2000mm (dark environment), 1000mm (bright environment)
Working refresh rate: 50Hz
Measuring angle: 27° (front)
Communication interface: I2C
Working voltage: 2.6V~3.5V
Working temperature: -40°C~80°C
For detailed module information, please refer to TOF Specification and Data Manual
Instructions
Preparation: The development board with the latest firmware, sp_tof module.

Run: Connect the module, modify the configuration surrounded by config in Sample Code, and aim the laser aiming head to measure after running Click to see the distance information printed by the terminal.
The procedure is as follows:
# create obj and read distance
tof = VL53L0X(i2c)
while True:
    mm = tof.read()
    utime.sleep_ms(100)
    print(mm)

'''output
>>> [41]
536mm
538mm
533mm
535mm
529mm
532mm
'''

The main steps are:
Create TOF object (parameter: I2C object).

The reading distance, if the reading distance is 8190, it means that the range has been exceeded.